DYDX/USD Finds Its Direction to the Upside
As an affiliate, we may earn from qualifying purchases. We get commissions for purchases made through links on this website.
Receive $10 in Bitcoin when you buy or sell $100 or more on Coinbase! https://mathisenmarketing.com/coinbase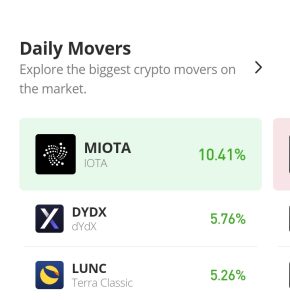 Join us Telegram channel to keep up to date with the latest news

After a brief consolidation in the DYDX/USD market that ended on August 11th, the market started to decline for 10 days, after which the bulls' attempt to lift the market failed and led to another sideways market. The period of concentration of the market describes a very large indecision, but at some point the aggression of the sellers caused the market price to fall. But the downward movement did not last more than one day in each case. However, we see in today's market that the bulls are doing an impressive job of pushing the price up. With the price currently balanced at $1.323, there is even more to cover if buyers take today's market higher.
DYDX Market Price Statistics:
DYDX/USD price now: $1.323

DYDX/USD market cap: $

86,708,495

DYDX/USD circulating supply: 65,569,295

DYDX/USD Total Supply: 1,000,000,000

DYDX/USD Coin Market Rank: #255
Key levels
Resistance: $1.50000, $2.0000, $2.5000

Support: $1.0000, $0.50000, $0.25000
Buy DYDX now
Your capital is at risk

DYDX Market Price Analysis: Indicators Perspective
The market was stationary for 5 days. Buyers and sellers did not offer a price in either direction of the market. But on September 23, we saw a sign of a very small market price pull – an attempt to break out of a volatile market. However, it is only today that we are starting to see a decisive market move to a higher price level.
MACD depicts a bearish market that is below the indicator's zero level. The MACD line now rises above the signal line as the height of the histogram increases upwards. The relative strength index also confirms that the market is recovering from the decline zone. Its RSI line is rising and now stands at 41%. Like the MACD indication, the RSI line is below the indicator's 50% level.

DYDX/USD 4 hour chart view
The 4-hour time frame is not much different from the daily chart time frame. As we can see from the diagram, one session is missing. The first trading session was not shown on this chart. Buying activity only started in the third trading session. The candlestick representing the third trade is very bullish. So far, we don't see any selling activity in the market at all. The RSI and MACD indications are quite similar to the daily session. The market is on the rise, but the pace is weak.
Tamadoge – Play and earn meme coins
Earn TAMA in battles with Doge Pets
Limited Supply of 2 Billion, Token Burn
Advance sales raised $19 million in less than two months
Upcoming ICO on OKX Exchange
Join us Telegram channel to keep up to date with the latest news
Receive $10 in Bitcoin when you buy or sell $100 or more on Coinbase! https://mathisenmarketing.com/coinbase

Source link