Get more remarketing sales in Google Ads
As an affiliate, we may earn from qualifying purchases. We get commissions for purchases made through links on this website.
Do you run non-sales Google Ads campaigns? Do you want customers who have previously been on your website to come back and make a purchase? Then remarketing through Google Ads is the way to go. In this blog post you get an overview of what remarketing with Google Ads is and how you can get started.
What is remarketing through Google Ads?
Let's say you've been looking for a hot tub and typed this into a Google search. You have clicked on the first search result, but have not done anything more on the website. Later in the evening, you will see ads from this website on YouTube, apps and online newspapers – and this lasts for weeks.
When you first visited the website, a cookie was stored in your browser which is now used to show you ads on other websites. This is remarketing and repeated exposure from the company.
Read more about Google advertising and get in touch if you want to test us for a month.
Remarketing through Display Ads
Remarketing is a necessity in marketing for many businesses. Display ads are a great way to tailor ads to customers who have previously been interested in your products or services. Often the customer has to see the ad 5-6 times before it triggers a sale.
Only then has the customer opened their eyes to the company and been exposed to repeated exposure. Repeated exposure of your business ensures that the customer recognizes you and visits your website once again.
Here is an example of a Display ad that is displayed in different sizes on different platforms and devices.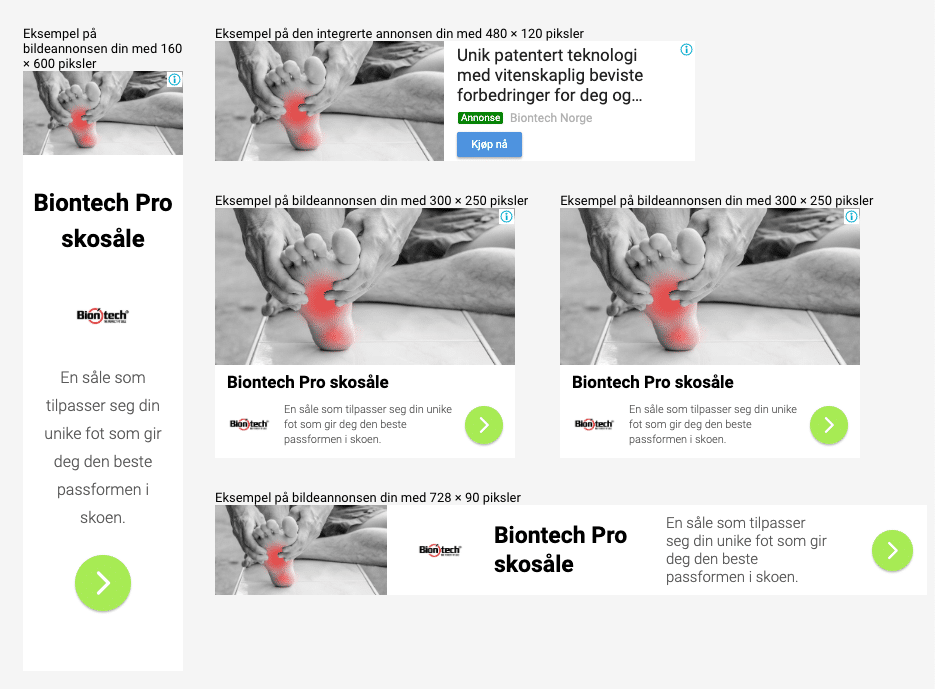 Start with Google search ads
Google search ads are a great source for sending potential customers to your website for the first time. However, ads in Google search are often triggered by customers who are looking for something and who want more information about it. Once you have received the information about the product you were looking for, you leave the website.
Here, Display ads come into their own, as these can be displayed on other websites to capture the customer's attention once again. The customer then remembers your company from the first visit to the website and is exposed to your products once again.
NB: In view of the new Privacy Act (GDPR), it is very important to have a privacy statement in place that explains that those who are on your website may be exposed to advertisements from your company if they have accepted the use of cookies on your website.
How to set up a remarketing audience in Google Ads.
If you have not configured an audience source, this must be done first. This is easiest if you have added Google Tag Manager (GTM) to your website. This must be done by your website provider or others who have a technical understanding of this.
Once you have configured an audience source, it is time to set up an audience. To set up a new audience in Google Ads, tap "Tools and Settings" in the menu. Then click on «Audience management» under «Shared library». Then this picture comes up. Here you press the blue "+" sign.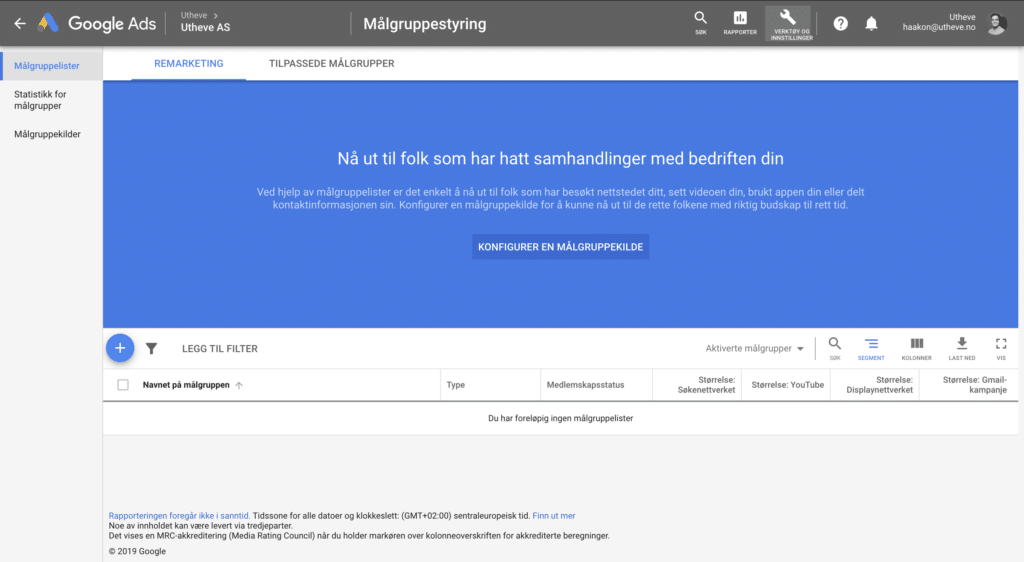 To drive remarketing to potential customers who have already visited your site, select "Site Visitors". Here, ads will be run towards this target group.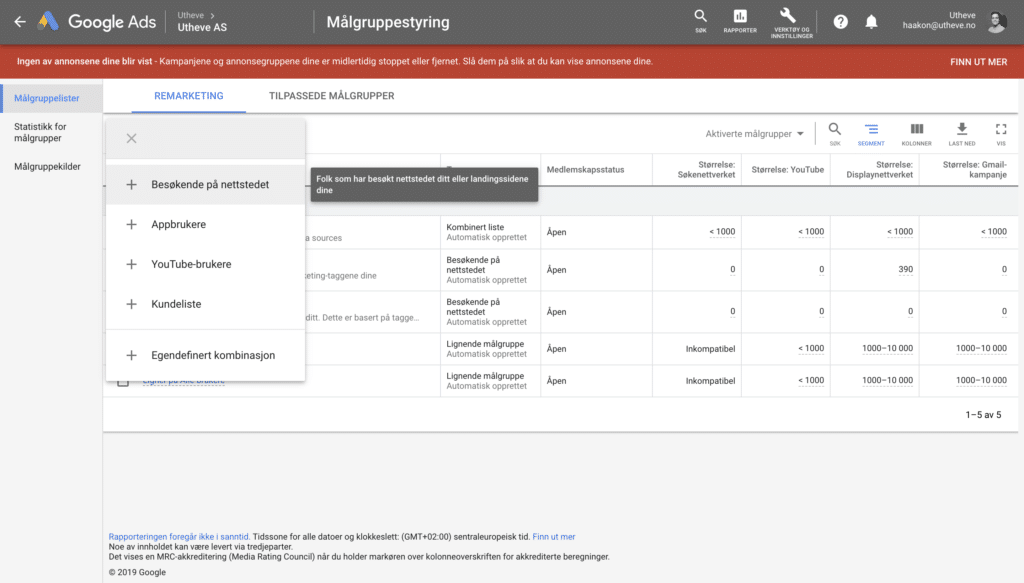 You can then enter the name of the target group, choose the URL you want to retrieve the target group from and how many days customers will be exposed to your ads. Then click on "Create target group".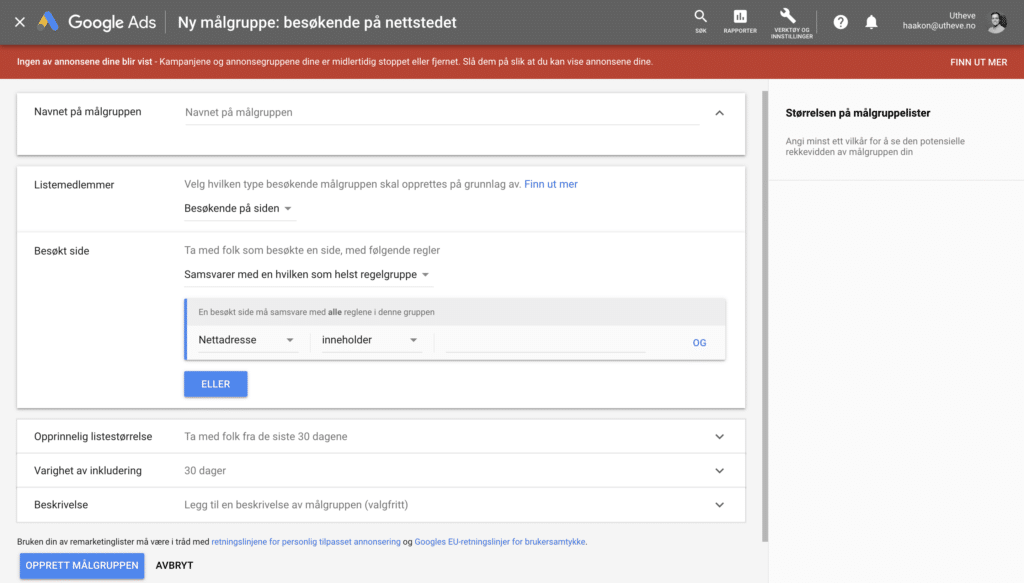 Here we see that the target group has been created and is working to fill the list with potential customers. The size of the list varies, but to run remarketing with Display ads, you must have at least 100 people in the list. Once the list is complete, your ads will start targeting this audience.

Summary
Very few customers make a purchase the first time they visit a website, and even fewer if the company is completely unknown. With remarketing through Google Ads, the customer becomes part of the target audience to which you want to show your ads. Display ads are a great way to drive remarketing, and the more times a customer sees your ads the greater the chance of getting a sale.