How to find the right audience to advertise on Snapchat
As an affiliate, we may earn from qualifying purchases. We get commissions for purchases made through links on this website.
Finding your target audience on Snapchat is crucial to success. With 188 million daily users spending an estimated 30 minutes a day, Snapchat is one of the largest social media sites to date.
According to figures from Ipsos and TNS Gallup, 2.5 million people in Norway over the age of 18 have a Snapchat account. Estimated figures that include those under 18 are approx. 3 million people. That is 60 percent of the country's population. Then there is a great chance that you will find your target audience on Snapchat!
Your target audience is on Snapchat
To get the most out of your Snapchat ads, it's a good idea to make sure your ads reach the right audience. For example, did you know that 1 in 3 users on Snapchat is a parent? Or that people under the age of 24 make up 50% of all users? There is a good balance between men and women on Snapchat – 55% women against 45% men. Who is your target audience on Snapchat?
Another thing to note is that during a consumer survey by US Murphy in 2017, half of Snapchat users describe themselves as "impulse shoppers". That is why one finds so many advertisements that lead to an online store. Snapchat also has tools that can create custom audiences. Feel free to check out our service page about Snapchat here: https://utheve.no/snapchat-markedsforing/
Snapchat helps you find audiences
The tool offers hundreds of predefined audiences between what people are watching inside the Snapchat app, and outside with their third-party data. The target groups built into the app help you reach people based on their interests.
People with cats, interior design enthusiasts, those who have been to Paris and football mothers are some examples.

3 tips for finding the right audience on Snapchat
Aim at the target group 29 years and younger
As written earlier, the majority of Snapchat users are in the younger part of life. One reason for this is Snapchat's ability to take advantage of the short attention span of the younger generation. The ads on Snapchat are more like a TV commercial than anything else, so it's important to catch the attention as quickly as possible.
Use the tools that Snapchat has created to create engagement!
Do not make the ad as a presentation to the Prime Minister. Snapchat itself encourages an informal dialogue between messenger and recipient. The trick is to use all the cards Snapchat has presented to you. Interactive ads such as lenses and filters help a lot to get the message across and keep the interest in the ad.Show your ads on a frequency that matches the time of day the users are on the appIn line with Facebook's ad manager, you can choose where and when in the day your ad should be displayed. Ads that arouse hunger during breakfast and lunch times, ads for workout clothes during the time it is most common to exercise, and information ads during the times when attention is at its peak (right after work) are some examples of how to target the ads to get maximum effect.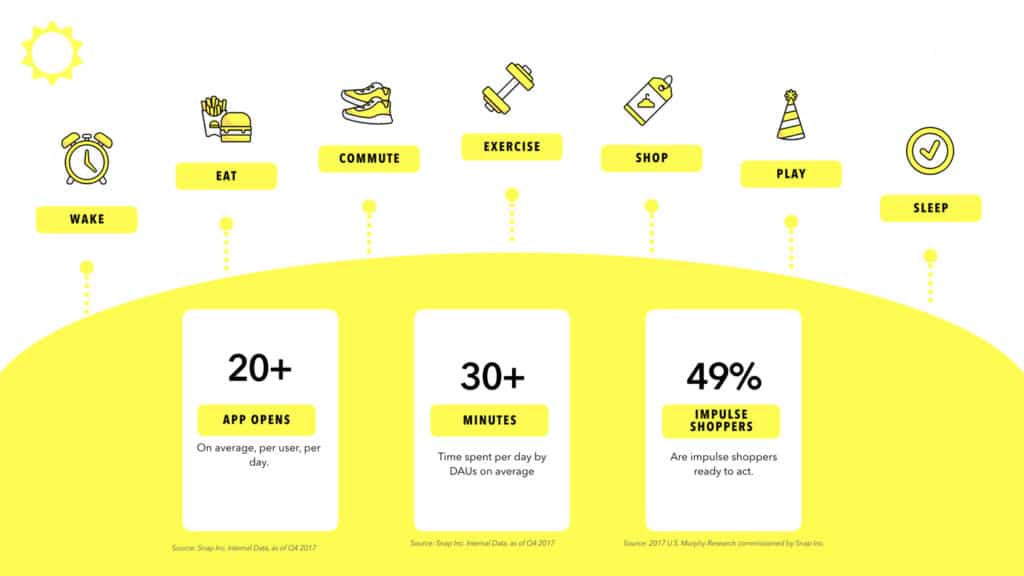 Combined, these goals have the potential to make your ads stand out in a competitive market.
In summary
Starting marketing on Snapchat is no easy task. But in return, Snapchat has one of the most cost-effective ways to get its message out. It's a platform of growth that takes a bigger slice of the social pie for each quarter that comes.