Instagram and algorithms
As an affiliate, we may earn from qualifying purchases. We get commissions for purchases made through links on this website.
We have received several inquiries recently about how Instagram algorithms work and how to succeed with Instagram marketing.
In this article, we will go into how you as a company can work with Instagram and algorithms as part of your marketing plan. The article is based on research based on what is new now, and my own experience from use over time. Instagram is a flexible and interest-based channel where it is important to know your own target group. What works for some does not work for others.
Number of posts on Instagram 
On Instagram you can share several posts a day if you want, you should stay on at least one photo / post per. day to keep interest up. There is a lot of competition for visibility in the app. If there is a week between each post, you are probably forgotten in a short time.
A rule you can make on Instagram, if it is a platform you have decided to use: for every Facebook post you post, post two on Instagram, so stay on the double, does not have to be just posts, but story -reels-shopping etc. it is more difficult to keep the interest up on Instagram then you have to be very on.
Instagram tools
Posts
Quite ordinary Instagram posts are what Instagram is primarily known for, followed by always new content. It is these posts that are easiest to reach out to new followers with. Every single day, a huge number of posts are published. Posting regularly reminds people of your existence. But at the same time we should not be too visible, then you get bored. So even though I wrote that you should have at least one post a day, regular posts should not exceed three posts. If you then post three posts, try to vary the content. To distribute where you are visible:
Post 1 #nature
Post 2 # trees
Post 3 #macro
At the same time, it's okay to have a # that you use more often that is associated with your business as a whole. #creative #photography or whatever you want as a common denominator.
Tall:
Daily average service life per. user: 1 hour.
Post life: Most people die out after 6 hours, but popular posts usually have a life up to 48 hours.
2.5 million Norwegian users – 64% are active daily – both women and men of all ages.
Stories
Stories are most interesting for regular followers and those who are interested from other posts. It has a low effect when I run stories on paid ads. But based on my own use, I see that it can be good to make some stories and then add them to the sections at the top of the profile where the stories stay as long as you want. When someone is already curious about your profile, it is a place you like to sit and look.
Stories are therefore most interesting for regular followers or to keep the interest of those who have come to the user via regular posts. The great thing about Stories is that they disappear in a while if they are not stored at the top, you can play more on personality, use humor and joy – feel free to talk about something special that the company has experienced and last but not least you can post so much you want – no norms around the number of posts per day.
Shopping 
A revolution for online stores – with so many possibilities. This is a point in itself. But since we are talking about algorithms, everything we mention further will also apply to posts on the shopping section. But shopping via Instagram is only becoming more and more popular. Shopping posts have a separate section, but can also be displayed on regular posts. As an online store, feel free to use shopping in accordance with regular posts, just do not have too many posts on the front page, as it can ruin the personal appearance.
Feel free to read more about Instagram Shopping here.
Reels
More and more we are drawn into the short story and video world. We like humor and small everyday pleasures. Reels is very similar to Tik Tok, but that this trend has taken so much off is no wonder from what we see with the development of the video. The corporate market can to a very large extent take advantage of this trend to reach out especially to the younger generation, but more and more older generation as well.
Have you seen the videos with the music Banana (feat. Shaggy) where you see a simple dance that involves dropping the sunglasses down on the tip of your nose? You do not have to be good at dancing to make it happen, at the same time they are extremely engaging. If you wear the store's sunglasses in such a Reels video, you will be able to hook many followers and potential customers.
Algorithms – What does Instagram like?
What Instagram refers to who is based on interests. How much each individual uses Instagram, who they follow both you and related companies. Who you visit and how much time they spend on the profile and so much more.
Instagram algorithms search for relevant content
Number one is to create content that is relevant, so that you find what you expect on the profile and do not post clickbait etc. Instagram keeps track of how long users have been looking at the profiles to know how relevant a user is. If they leave the profile immediately, it is an indication that the person did not find what they expected. If you stay on the profile longer, Instagram's algorithm will think that this is a user who will be well-liked.
Aesthetics are gold to the eye
The most important thing for Instagram is the aesthetics, the first thing we see, and good content that hits. Movement and movies are also very fond of Instagram. It also has a stop effect that we humans like very much. It takes us into a movement where we are curious about what happens next. This is one of the reasons why Reels and Tik Tok have become so popular.
Instagram's algorithm works in such a way that posts that are very similar are posts that are probably aesthetically beautiful to look at. If the posts have many likes, they will be prioritized and shown more frequently and to more people. Instagram will also see how long you look at a picture, since we look further at something that looks good, this is relevant to what Instagram's algorithms think you like.
#Hashtags
A large part of Instagram's brand is built around the use of #hashtags. Using structured hashtags is the key to Instagram's way of operating. Instagram is an interest related app. #Hashtags tell Instagram what you like about content, therefore they have a lot to say for what you get to see of content.
Why use #hashtags?
#Hashtags basically determine what you want to be exposed to. Which # you use, which you follow and which your followers use has a lot to say for what you want to see of content. Posts you like with # also play a big role.
Right from the start, you were only exposed to the latest posts from your followers. Eventually it became just the most popular posts from the ones you follow. This also applied to searches. Then came an update where you got everything relevant on the front page. Most popular comes up first, the rest in second row. Then it did not have as much to say who you followed, but more what you searched for by #hashtags.
The latest update came with a lot of dissatisfaction when many people followed disappeared. Instagram took note and found a middle ground. Now in March came the update which is a kind of unified version of all these, both who you follow AND what you apply for is important. You still get a lot of relevant content, but how much you get up from what must be seen in connection with time use, aesthetics , relevance , commitment and activity .
Hashtags – the key to effective marketing on Instagram
Since # is one of Instagram's key points when it comes to algorithms, using them as a company will be an important part of staying visible. You will be put in a kind of "relationship" to those who use the same tags or variations of the tags. But at the same time; do not overuse them.
Use #hashtags as part of your Instagram branding and cultivate one or two words that you associate with your business. It can be a more popular word like #butikk or similar and a more narrow one that you make yourself e.g. #company_name_brand that even your customers can be encouraged to use.
For each post there is a maximum number of 30 hashtags, but my recommendation is to stick to 3-5 very relevant words, where one is your own, one for category, and the other three are descriptive. Feel free to include the manufacturer's name.
ex. #company_name_brand #fashion #photo #camera #canon
Time use affects Instagram algorithms
When it comes to what times of the day you should post, it's a little different what works. It is most likely that the last shared posts come up first in the feed of people, but it is important to note exactly the MOST PROBABLE, so that is NOT the rule. Spend absolute time researching your target audience, but do not let time come before content. Once you have made up your mind about what your target audience is doing – create a solid publishing plan and stick to it.
For my own part who has a weekday where it goes in driving on various activities with the kid, the time from 8 o'clock in the evening and out is a time I scroll, but older people like to have their TV programs in that time, so for them is Instagram time after breakfast, before lunch with the gang.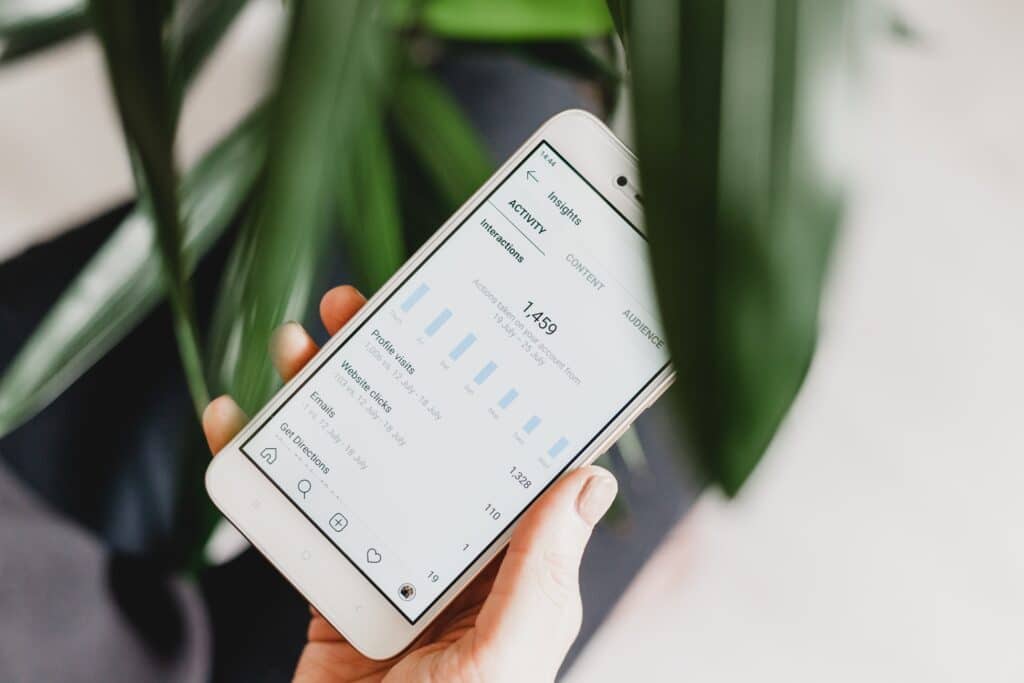 How to get to know your target audience and what applies to them?
First and foremost, use Instagram's business tool. Here is a lot of data about which of your posts strike, who you reach and when.
You can also make an effort to pick a small bunch of your own followers who are active to see what times of day they publish. If you are active during the same period, they will eventually get a sense of belonging.
One can learn a lot about potential audiences by choosing #hashtags that you want to be associated with and visible on. Go through these tags to see how often people publish and when. If there is a low-medium number of new posts a day, publish a little before the others, on Instagram you scroll for a while so then you will be seen by everyone.
If it is a widely used #hashtag, you can publish in the same time period, preferably in the middle of the most used time so as not to disappear at the bottom.
Another thing is to run a poll on your story, to check if your followers use stories, what time of day they are on, and how much they use Instagram for example. Ask questions and create engagement.
Engagement
Instagram loves engaging posts, and polls are often very engaging. Bottom line – they will be shown to more outside of your followers as well. Such types of posts provide the opportunity to communicate with the target audience at their level.
Opinion polls can be used against clothing:
Which jacket?
Which pants fit?
Are you a hat or headband?
What season are YOU?
If 90% comment on headbands, it will tell you that your customers would rather see headbands than hats in the store. If you have 20 who answer winter, over two who answer summer, it may give an indication that you need to step up marketing in winter with a winter theme.
The more engaging the content, the more engaged the audience. More engaged audience = more traffic. More traffic gives more likes! #Instalove
Tip: Make a small video post in around 5 sec. It can be that simple: Wear a scarf, put the phone on film and spin the floor. Post to see the difference in engagement.
Activity
Worth noting in the end. An important part of Instagram's algorithms is that the more active you are and the more you are logged in to Instagram, the more content you will be shown. All the more, Instagram has to use its algorithms to find new content to showcase. For Instagram, a lot is invested in just showing something new ALWAYS.
This means that the more active a user is on Instagram, the more washed out the content from the users he or she follows will be, the greater the chance for you to sneak into that person's feed. Oh how do you do that? You combine all the points mentioned above.
In summary
Share often
Have good aesthetics
Create engagement
Use hashtags
Get to know your target audience
Feel free to create an inspirational document with what you want to achieve by using Instagram. Use it to create your own marketing plan that includes how to use Instagram and algorithms it will affect. Use the numbers you find from your own research to become even better acquainted with your target group. Set up a sharing plan for yourself with time and number for each day. Fixed times you are logged in and fixed times for publishing content.
It's easier for Instagram to be familiar with your routines if they are fixed. And the target audience will eventually subconsciously expect to see posts from you at those times. They get to know the company and its routines.
After testing your plan over a given period of time, review your numbers and analyzes so you learn even more and can develop your business further.
Stay up to date on cool launches and other cool things on Instagram:
Check Twitter where it regularly publishes news about Instagram and algorithms to keep yourself…. #updated .