Rollbit Coin (RLB): Earn Rewards With Rollbit's Utility Token
As an affiliate, we may earn from qualifying purchases. We get commissions for purchases made through links on this website.
Receive $10 in Bitcoin when you buy or sell $100 or more on Coinbase! https://mathisenmarketing.com/coinbase

Cryptocasinos accept a variety of cryptocurrencies, but only a few actually offer their own blockchain-based tokens. With Rollbit Coin (RLB), Rollbit is one of the few casinos to step up and find new ways to introduce cryptocurrencies, offering players unique ways to earn and use the platform's native token.
What is RLB?
Rollbit is a cryptocurrency casino that is gaining popularity in the world of online gambling. It has several innovative features that make it uniquely attractive with incredible incentives for over 2000 games.
Rollbit Coin (RLB), as described in Rollbit's press release, is the official utility of Rollbit Casino and was launched alongside the Rollbit Lottery. The RLB token runs on the Solana blockchain and has an initial supply of 5 billion tokens.
Unlike a regular token release, there was no ICO for RLB. Instead, Rollbit airdropped RLB to users of its trading and gaming platform at the time. Rollbit Coin acts as an entry ticket to the Rollbit lottery, giving its owners the opportunity to earn a portion of the casino's profits. But there is more to RLB than meets the eye.
What can you do with Rollbit Coin?
RLB lottery
Rollbit Lottery is a necessary component to collect RLB to burn. It entices Rollbit users to buy and bet RLB with the huge jackpot and guaranteed jackpots on every spin.
To participate in the Rollbit lottery, a minimum stake of 10 RLB is required. The more RLB bets, the more chance you have to win.
When placing a bet with RLB in the Rollbit lotto, a fee of 0.2% is charged. Staked Rollbot holders get 0.1% of the reward back, while the remaining 0.1% is burned. This creates a healthy deflationary asset and captures value in the token market.
HODL
Rollbit openly states that they expect a significant increase in value over the next few years due to the deflationary nature of Rollbit Coin. According to their projections, 50% of RLB's supply will be burned this year alone.
In addition to the deflationary properties of RLB, as Rollbit expands and expands its user base, more and more people will be exposed to RLB, which in turn will increase demand. So holding Rollbit Coin long term might not be a bad idea.
Trade
If you don't want to keep your Rollbit Coins, you can always sell or exchange them.
Rollbit is working hard to get RLB tokens listed on well-known centralized exchanges and decentralized exchanges, users can trade RLB through Dexlab's Rollbit casino custom market or they can exchange RLB using Raydium.
How to buy Rollbit Coin
Rollbit Intends to list RLB on popular centralized and decentralized exchanges. It is currently possible to buy and sell RLB through the Rollbits custom market in DexLab or trade RLB through Raydium.
Steps to purchase
Download Phantom Wallet
Set up your Phantom account
Deposit SOL and USDC as base currencies with your Phantom Wallet from CEX like Binance
Choose a decentralized exchange, we recommend Dexlab or Raydium
Connect your wallet to DEX
When you place an order on Dexlab to buy RLB, you need USDC or SOL in your wallet. You must match the best offer, which is the sell order in the order book at the lowest price. Once you confirm the transaction in your Phantom wallet and the transaction is completed, you need to go to the "checkout" section and complete the RLB balance for the RLB to show.
Depositing RLB to Rollbit Casino
Copy the deposit address from Rollbit casino
Paste the deposit address into the "Recipient RLB Address" field of the Phantom wallet
Select RLB
Check how many characters are transferred
Click "Submit".
RLB will be credited to your account shortly after deposit confirmation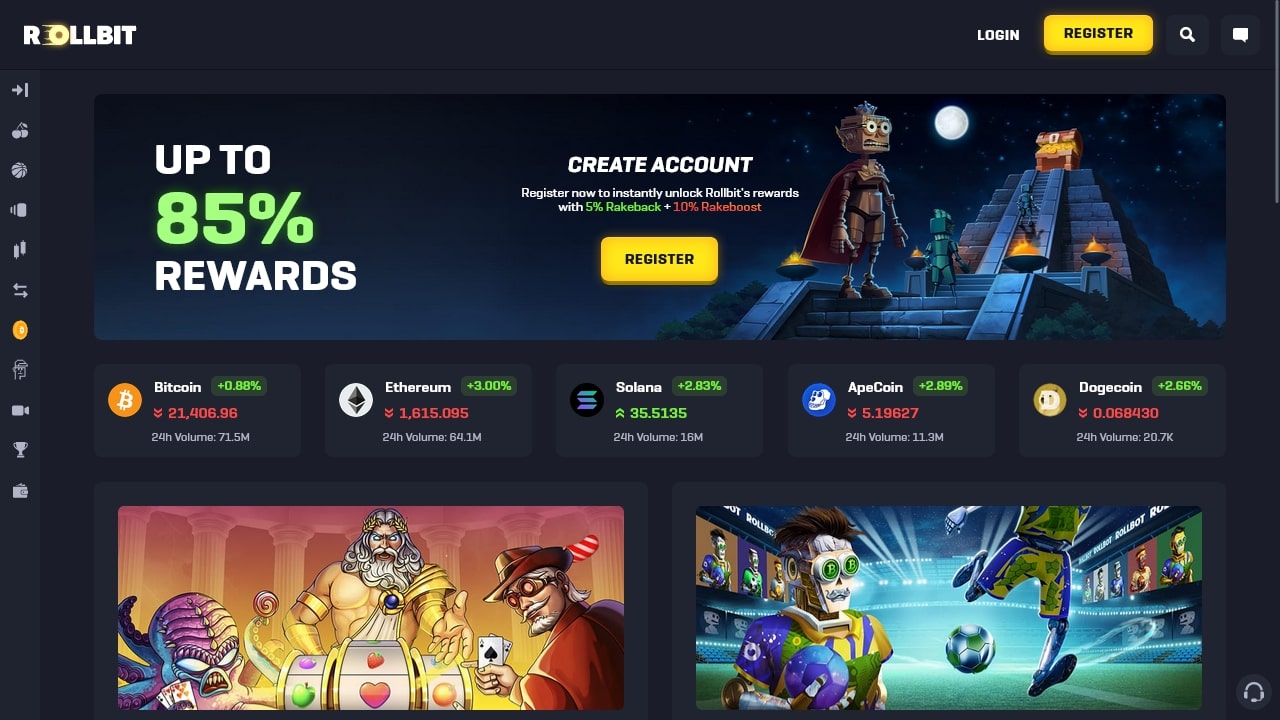 How to earn Rollbit Coins
Awards from Rollbit
You can earn rich benefits such as rakeback, cashback, investment bonuses and returns. If you have Rollbot NFT attached to your profile, you will receive double RLB rewards for completing tasks when betting on casino games or trading cryptocurrencies.
You get 1 RLB for every $1 in rakeback. You get 2 RLB for every $1 cashback and 3 RLB for every $1 return. Finally, you'll get 5 RLBs for every $1 you claim in Level Up Incentives.
Deposit NFTs
In NFT collections supported by Rollbit, RLB can be redeemed for each NFT deposit. By depositing well-known NFT coins from companies like CryptoPunks and Bored Ape Yacht Club, you can earn up to 100,000 RLB.
Wagering Rollbots
You can passively earn Rollbit coins in RLB Lotto by betting Rollbot's NFTs. Rollbots staked in the NFT Marketplace will receive 0.1% of RLB taken as a reward after each RLB lottery round. This is in addition to a 50% profit share for the holder, which is funded by NFT Marketplace sales.
RLB cryptocurrency price
Due to the nature of cryptocurrencies, the price of Rollbit Coin varies, which makes it difficult to give an exact price. If you are looking for a live coin price, there are a few places you can visit. It is recommended to look at the current value on price indices such as Coinmarketcap, Solanacompass, Coinbase and Coingecko.
Collect rewards with RLB and Rollbit
Their brand offers users a wide range of utilities to utilize while playing and earning. There are other crypto casinos that have their own play money, but Rollbit has proven to be the best contender in the field. If you're still curious to learn more about Rollbit and the RLB token, be sure to check out our comprehensive Rollbit review.
Bonus
Instant rakeback bonus 5% + 10% rakeboost
Receive $10 in Bitcoin when you buy or sell $100 or more on Coinbase! https://mathisenmarketing.com/coinbase

Source link