Rollbot NFTs: Unlock NFT Gambling At Rollbit Casino
As an affiliate, we may earn from qualifying purchases. We get commissions for purchases made through links on this website.
Receive $10 in Bitcoin when you buy or sell $100 or more on Coinbase! https://mathisenmarketing.com/coinbase

Rollbit is an innovative cryptocurrency casino and trading platform that offers features such as Rollbot NFTs, betting, lootboxes and profit sharing. It was founded in February 2020 and its mission is to provide users with a unique gaming experience with its original RLB token that can be exchanged or wagered for prizes.
In 2021, Rollbit made history by being the first casino to release its own NFTs known as Rollbots. These NFTs offer their holders exclusive benefits and utilities, acting as customized VIP membership cards similar to those found in land-based casinos. In this article, we explore Rollbot's NFTs: what makes them unique, what utility they offer, and Rollbit's NFT game, Rollbot Bonanza.
What are Rollbot NFTs?
Rollbot NFTs are a series of 10,000 unique bots, algorithmically generated using over 180 features, that grant owners special rewards and features at Rollbit Casino.
Rollbots are based on the ERC-721 standard, which is the backbone of many current NFT projects and allows anyone to trade their Rollbots in a permissionless manner and store your proof of ownership on the Ethereum blockchain.
When the project launched in October 2021, it achieved massive success with a pre-sale of 2,000 NFTs, which sold out in less than 25 seconds. The ensuing public sale of 7,000 NFTs sold out in less than an hour.
Rollbots have 7 distinct features, each with different useful benefits. These Rollbot features are:
Background
Frame
Hat
Clothing
Teeth
The eyes
Ears
Each feature has a different rarity and determines the reward factor. So far, five of the seven properties have a utility attached, with teeth and background properties still needing utility implementation. An NFT utility of this level is the first of its kind, and the benefits seem endless.
There are 25 Special Rollbots in the collection that offer the biggest rewards to owners.
Rollbit is currently releasing several new Rollbit-themed games for all users.
However, Rollbit VIP members and Rollbot NFT holders are the only users who can get a share of the revenue from these casino games. Owning a Rollbot NFT also gives the owner a status badge and a distinctive bot that can be used as a social media avatar.
Rollbot NFT utility at Rollbit Casino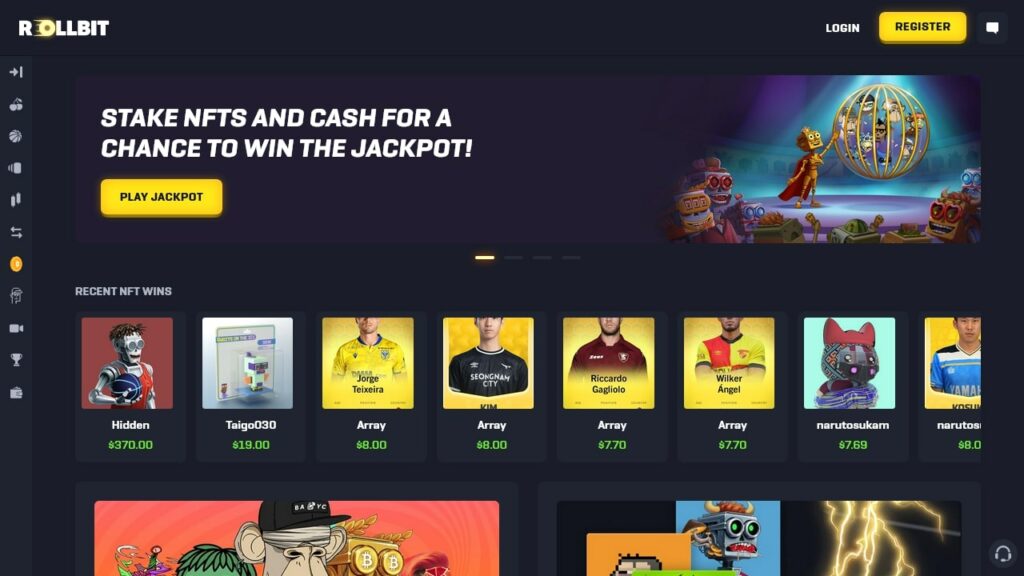 But these Rollbot NFTs are more than just a cool, unique image, they have real utility on the Rollbit casino platform. Rollbit even created wagering rewards and a house custom NFT gambling game, Rollbit Bonanza.
Rollbots are still very new, only about a year old at the time of writing, so there is much more to the plans than we can fathom.
Let's explore what Rollbot NFTs contain on the Rollbit platform, let's dive in.
Return
Using a rollbot can increase your rakeback from 2.5% to 10%. The rarest Body Type is solid gold, found in only 53 Rollbots out of a total collection of 10,000, and can increase your total rakeback on your Rollbit account to 15%. The Rollbot rewards program has much more exciting incentives. Users must configure Rollbot in their profile to unlock Rollback, which can be done through their NFT portfolio. Your return rate is determined by the Rollbot assigned to your profile.
RLB lottery bet
Rollbot holders can earn RLB by staking Rollbit on the NFT Marketplace. At the end of each RLB round, the Rollbot RLB is split equally between the RLB burn schedule and staked Rollbot holders. Remember to hold and stake your Rollbots as long as possible to optimize your RLB earnings.
Rollbot Bonanza
Rollbit created Rollbot Bonanza, a slot-style game with the potential for incredible odds. Before you start spinning, you can improve your bets by customizing your Rollbot with bonus features. If you land the same trait on the feature multiplier reel, you multiply your winnings by a proportional amount. By using the profile Rollbit Rollbot, you can increase your final multiplier by 10x for 5 matching features and x100 for 6 matching features. You can also play up to 1,000 autospins to win without having to keep clicking a button.
You can choose from features such as body color, clothes, ears, eyes, hats, and teeth. The highest multiplier that can be seen is x27.53, but the more features you have and add, the more you win. There are also challenges where you can win even more for hitting certain odds. Overall, this game offers a very rewarding gaming experience.
RLB lottery odds
You can increase your chances of winning cash prizes in Rollbit's RLB lottery by owning a Rollbot. For every 100 Bitcoin blocks, the RLB Lottery will give a portion of Rollbit's earnings to 100 lucky winners. Rollbit also launches lottery odds. For example, the "Gold Wing" ears attribute is the rarest, with only 55 Rollbots having it. Rollbots with this attribute offer a 5.20x multiplier on the RLB bet.
Profit sharing
Rollbot owners can stake Rollbots on the NFT Marketplace, where stakers receive 50% of revenue. Your profit share is determined by Rollbot's most valuable hat. Only 53 Rollbots have crowns, and their owners get the most shares. All 10,000 Rollbots have a total of 3,625,000 shares, and 50% of the marketplace's revenue is awarded to Rollbot owners who invest in their Rollbots. It should be noted that once you have staked a Rollbot, it cannot be used for anything else until it is removed.
NFT Lootboxes
In order to make an NFT Lootbox, you must first combine it with a Rollbot, which means that this Rollbot is effectively staked and cannot be used for any other purpose. Only Rollbot owners can design their own NFT Lootboxes and use the revolutionary NFT Lootboxes to become the house in their own casino game. So if you only have one Rollbot, you can do an NFT Lootbox with just another NFT or cash as rewards. If you want to donate a Rollbot, you need at least two of them. One Rollbot is staked and another is added as a prize.
Holders of our Rollbit-branded NFT games can add their own NFTs to the NFT Lootbox and determine cash prizes before choosing a winning probability. The lowest definable winning probability is 0.001% to ensure that it is worth playing. The price of opening an NFT Lootbox is determined automatically and includes a 5% house edge. The cost of opening a rollbot increases as more valuable NFTs are added and the chance of winning increases. The creator can close NFT Lootboxes listings at any time to free up the staked Rollbot for another utility, and the prize opportunity can be changed at any time.
How to buy and sell Rollbots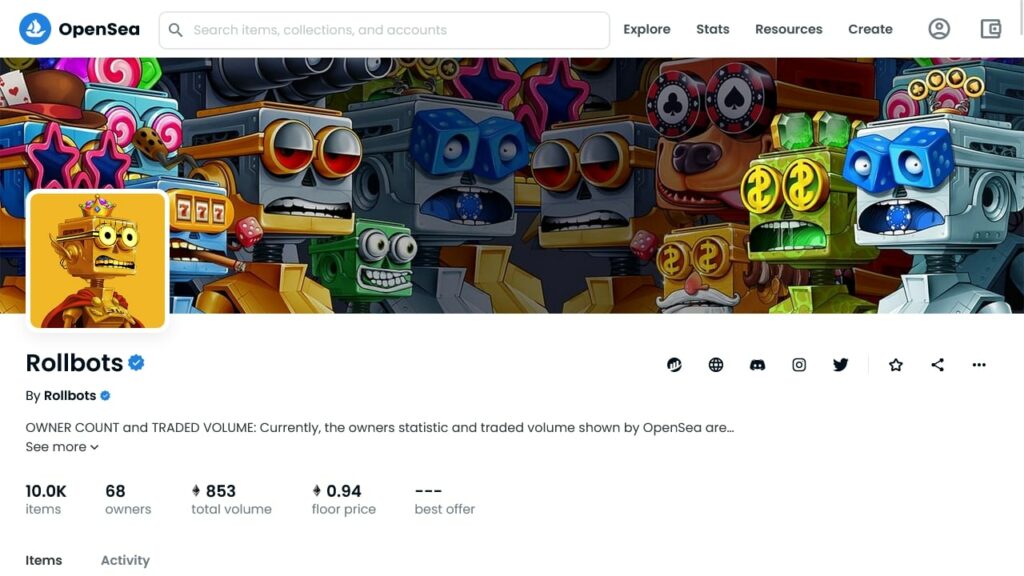 You can buy or bid on Rollbot NFT through Opensea or the Rollbit NFT marketplace (yes, this casino has its own NFT marketplace).
Once you have acquired the NFT, you can store it on the Rollbit platform or transfer it to the linked MetaMask wallet.
Funny thing: You can also register and login to Rollbot using MetaMask: just another reason why the MetaMask wallet is great for gambling.
You can also sell your Rollbot on the Rollbit marketplace, create a lootbox to distribute it, or sell it on OpenSea via MetaMask.
Get more out of Rollbit with Rollbot's NFT
Rollbit casino always tries to improve its customer experience in innovative ways. Their new rewards update includes Rakeback, Rollback and Rank Bonuses; gives players 60-70% of the house advantage back.
If you want to know more, read Rollbit's comprehensive report. Additionally, you can learn more about Rollbit Casino, their Rollbot NFTs and Rollbot Bonanza in our Rollbit review.

Bonus
Instant rakeback bonus 5% + 10% rakeboost
The post Rollbot NFTs: Unlock NFT Gambling At Rollbit Casino appeared first on BitcoinChaser.
Receive $10 in Bitcoin when you buy or sell $100 or more on Coinbase! https://mathisenmarketing.com/coinbase

Source link