Website, one-page or landing page?
As an affiliate, we may earn from qualifying purchases. We get commissions for purchases made through links on this website.
The website is in many situations the most important part of marketing. It is the website's job to inform, build trust and convince visitors to choose you and your product or service.
But the term website is very broad. It can be anything from large online stores to small landing pages. Internally in Utheve we use 3 different categorizations.
Website
We define a website as a page with several subpages.
Groweasy.no is an example of a website we have built. Groweasy AS has developed a cultivation tunnel that is stronger, more versatile and can withstand more weather than a normal greenhouse. Groweasy's cultivation tunnel has been developed for the Norwegian climate, and has been tested in wind speeds of over 20m / s. We have also marketed Groweasy on Facebook, Instagram and Google, and after just two weeks, more than 50 requests were received!
Groweasy AS had a new product, and several different models of the product. In other words, the need for information was great. Therefore, it became natural to go for this type of website.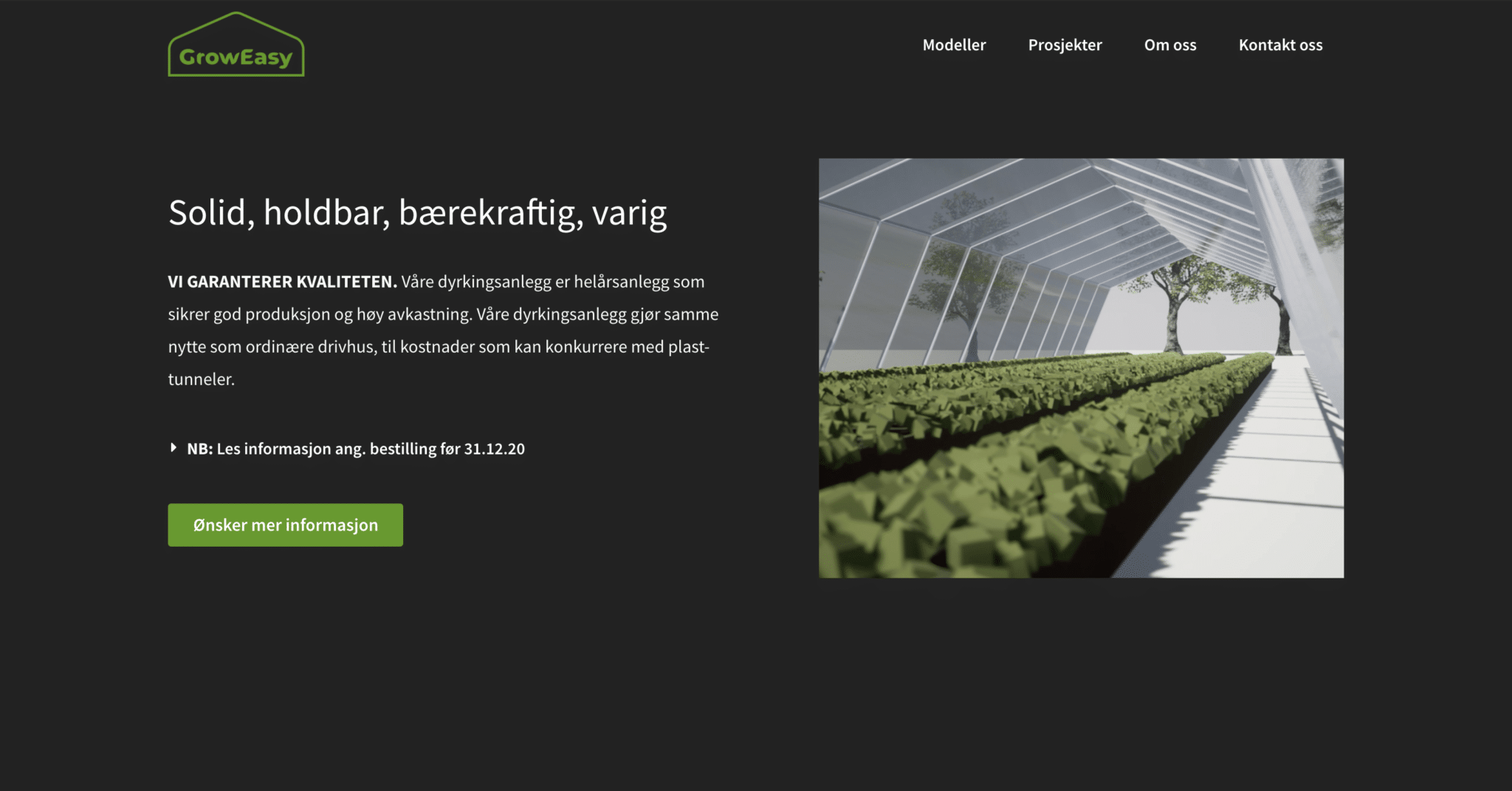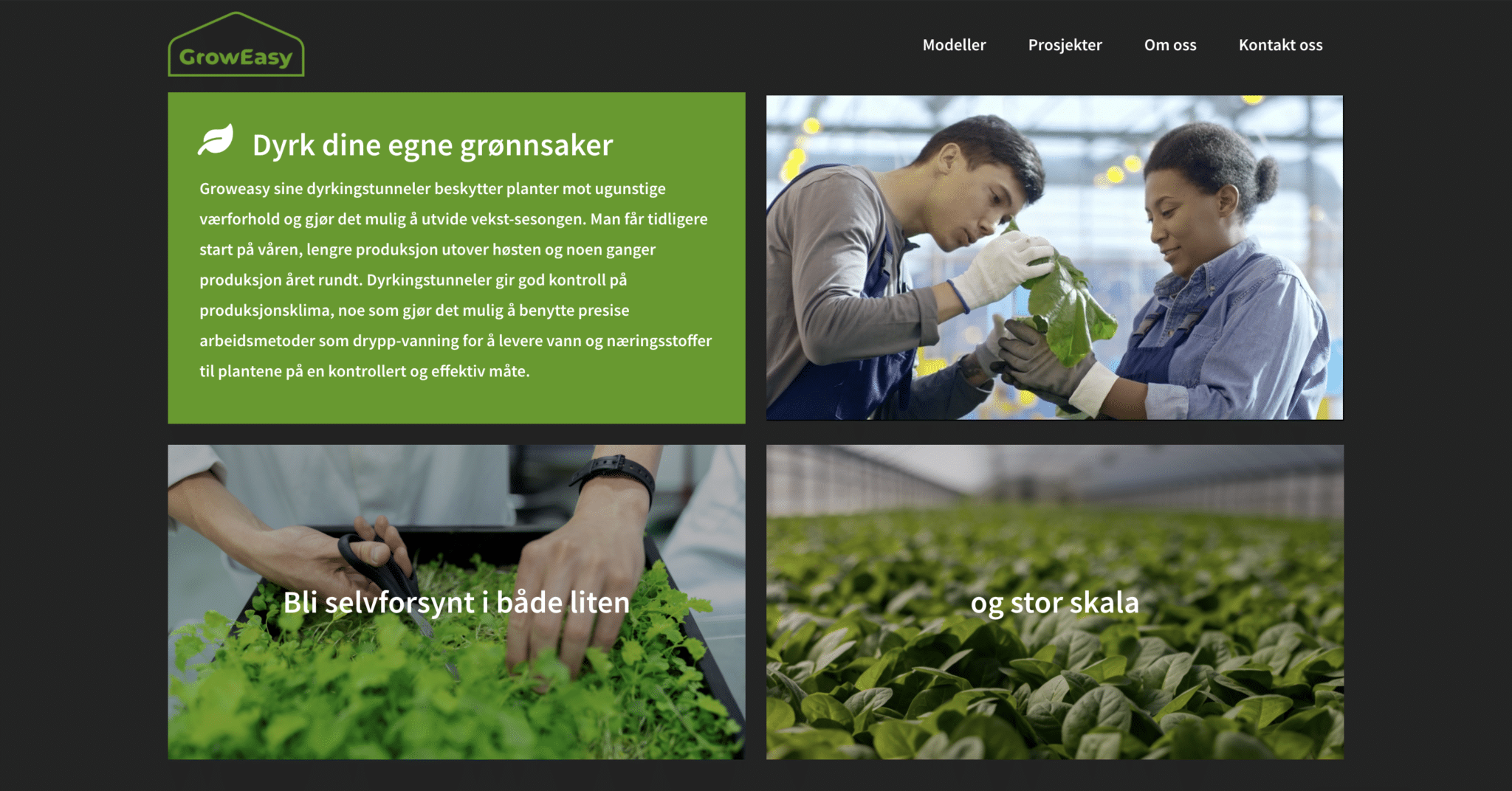 We chose in collaboration with the customer to go for a black and modern expression on the website. Here, the images and elements play a big role, where the green expression is repeated throughout the website. A good mix of text boxes, images and videos makes the page more vivid and appealing. And that the information becomes clear.
One-pager
A one-pager is a website variant where all of the information is on one page. Here we divide the front page into sections such as products, news, about the company and contact information.
Autoagri.no is a one-pager we built for AutoAgri AS which develops and produces autonomous tool carriers. Here we see the section structure mentioned earlier which was first built up of 3 USPs (Unique Selling Points), benefits of autonomous tool carriers, news from the company, information about the company and contact information.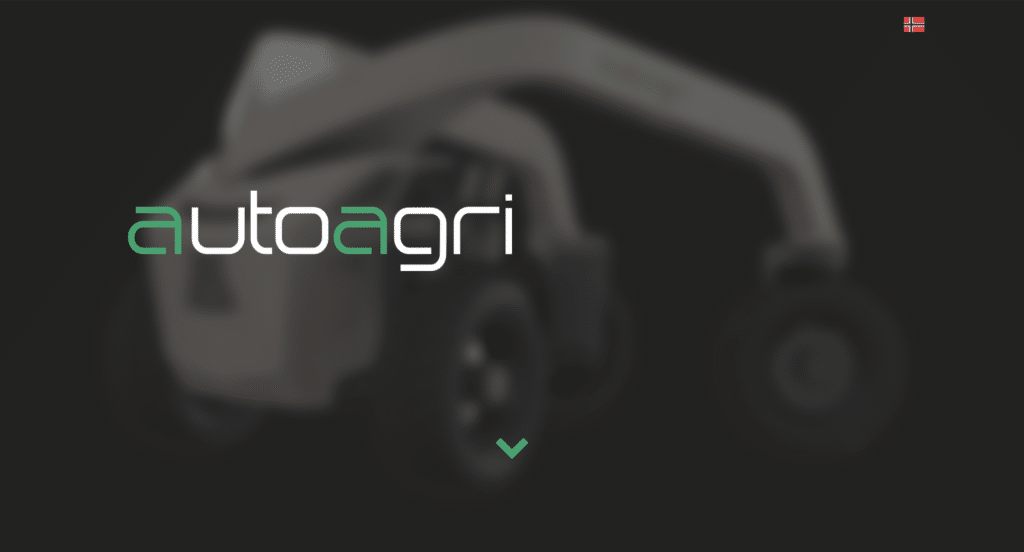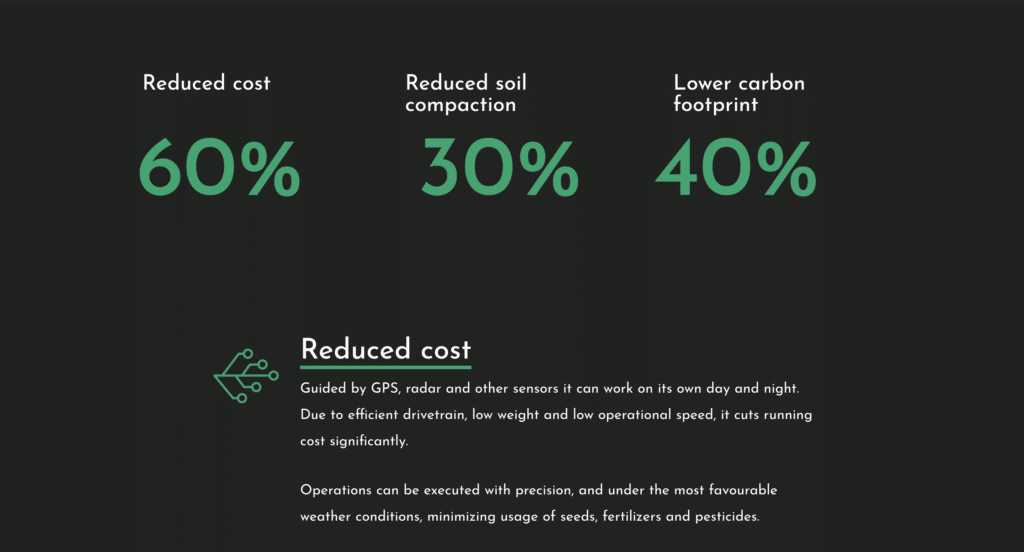 A one-pager is an excellent choice for Autoagri because they focus on a specific product. Then you can tell a visual story in a specific order. No menus and other disturbing items.
In general, one-pagers have been popular for quite some time now. One of the reasons why one-pagers perform well is because we have become very used to scrolling. On Facebook we scroll. On online newspapers we scroll. In other words, scrolling has become very natural. Especially on mobile, it is more intuitive to scroll rather than rummage through a large menu.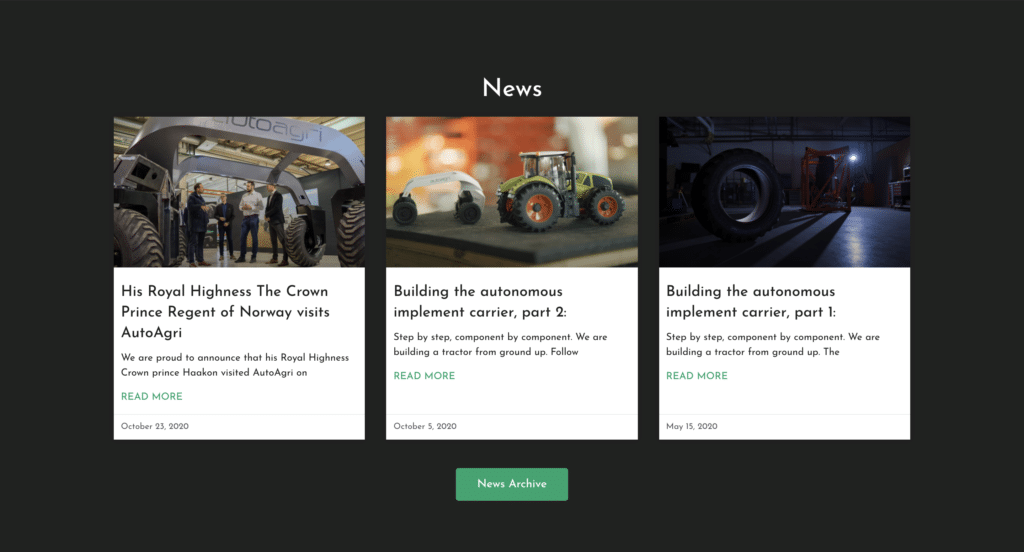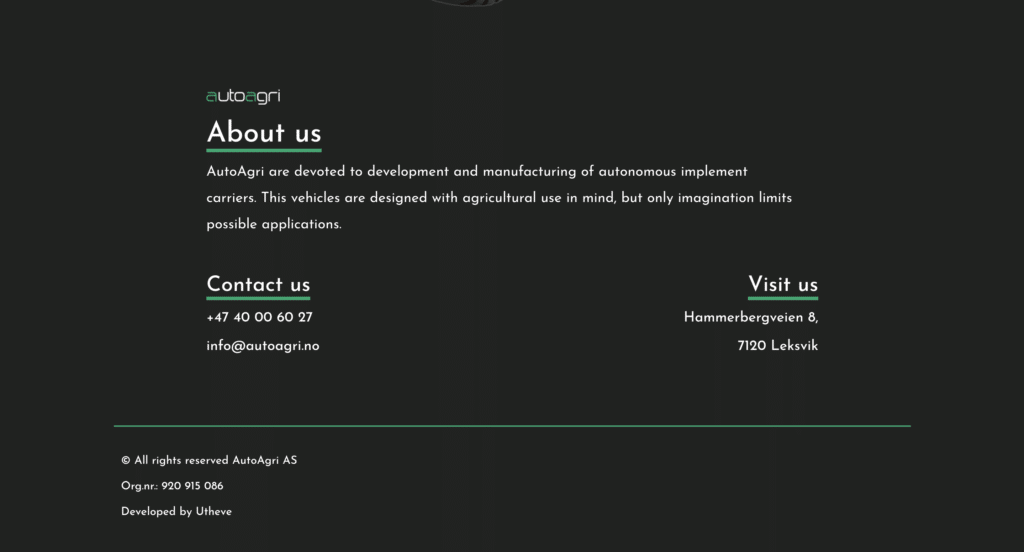 Landing page
A landing page should primarily serve as a promotional page for a product or service. The landing page should be an extension of the ads you run. The job of the ad is to create enough interest for you to click. Then the landing page you land on will complete the sale.
Here is an example of a landing page we developed for Nidaros Diocese. We were commissioned to market the Diocese of Nidaros and their deacon work. They wanted to reach out to those who can help in their community through conversation, visits, singing, unity and care.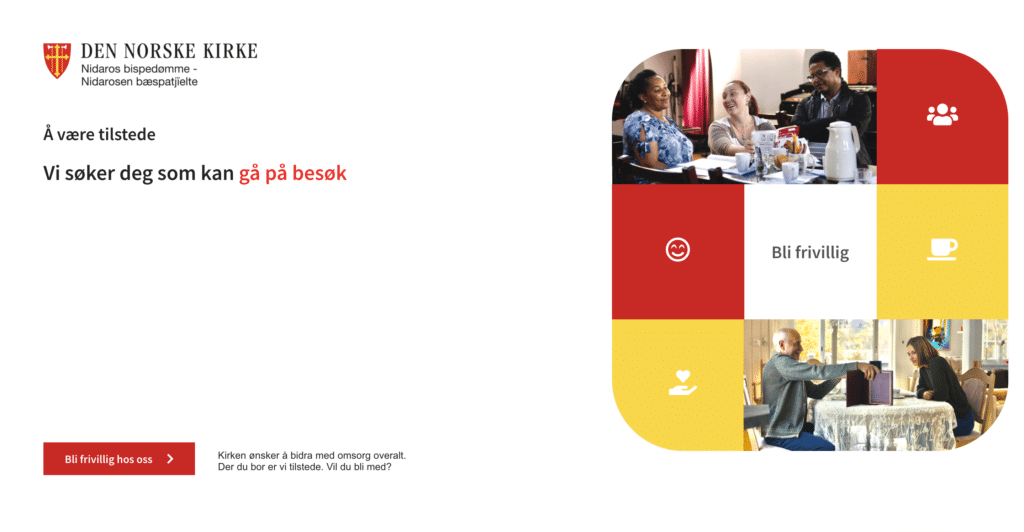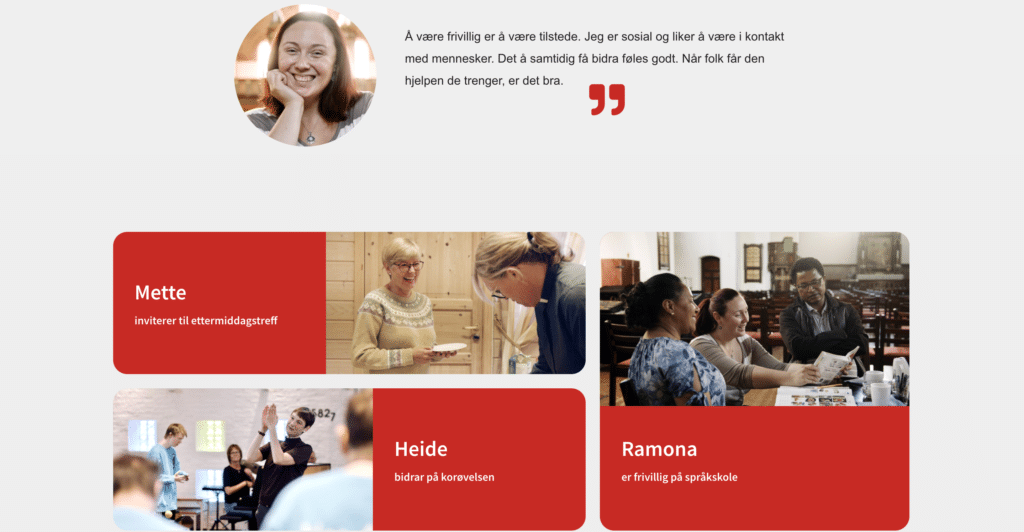 The design on the landing page was based on good images, icons and active use of profile colors. Text was designed together with the customer. By pressing the button "Become a volunteer with us", those who visit the site are sent to the contact form at the bottom. Along with a reference from a person who has volunteered in the past. The landing page was a success, and has delivered above expectations so far in the campaign that has been running since November.
In summary
There are many different types of websites. In this post I have written about 3 categories we use internally. In other words, this is not a decision or any kind of industry standard, but an attempt to give you a better picture of the options.
The most important thing is to have an updated website that communicates clearly on your behalf. And if you are struggling to get the desired result from your marketing, take a critical look at your website.